INFINIT N2 BUNDLE
THE PERFECT BUNDLE FOR THE STORAGE OF NITROGEN
Our AIRCO® N2 INFINIT BUNDLE allows you to store large amounts of nitrogen on the smallest possible surface area. Our own design allows 12 individual bottles (50 litres each) to be firmly bound with one another. Our nitrogen bundles, which are resistant to changes in pressure load, are given CE approval by our notified body. Modular expansion for any changes in your requirements is possible at any time.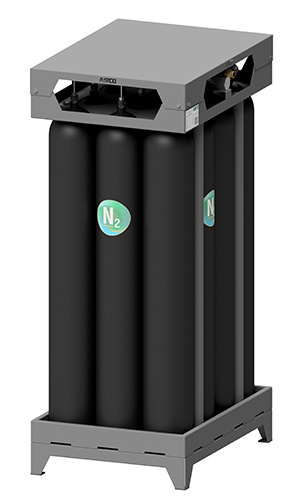 ADVANTAGES OF AIRCO® INFINIT N2 BUNDLE
Storage medium: Compressed air and nitrogen

Storage capacity: 180 m³ (at 300 bar)

Minimum effort thanks to plug and play

Quick and easy installation

TPED bundle resistant to pressure load changes / stationary
TECHNICAL SPECIFICATIONS
Type:
INFINIT N2 BUNDLE

12-bundle rack with 50 l pressure tanks
Bundle resistant to pressure load changes / stationary
Manufactured according to: RL 2010/35/EU (TPED, ISO 9809-1:2010)

Conformity mark:
π
bundle dimensions
1914 mm x 1000 mm x 750 mmm (height x length x width)
Weight / total weight
Gas cylinders (empty): 850 kg / 1050 kg
Gas type:
Stickstoff (N²), compressed
Number of cylinders:
12 units
Volume:
50 l (per cylinder)
Filling pressure:
300 bar
Test pressure:
450 bar
Cylinder color:
RAL 9005 jet black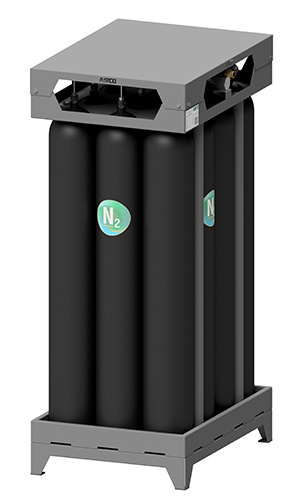 OFFER – QUERY – ADVICE ON Infinit N2 Bundle
Are you interested in a nitrogen system or the product: Infinit N2 Bundle ? Do you have a query, would like to receive an offer or do you require a consultation? Contact our sales team easily and conveniently or we will be happy to call you back.